Events
Get Spooky with Halloween Events until November 18!
28.10.2021
Scaring is caring!
The witching hour is close at hand in Conqueror's Blade... Enjoy spooky limited-time special offers, eerie events, a petrifying PVE mode, and more this Halloween!
Horrifying Halloween Events
The dead walk the earth, and spectres lurk around every corner in Conqueror's Blade this Halloween, offering up tricks and treats! Play between now and November 18 and take part in the following activities:

Rewarding Ritual Sign-in Event: Play Conqueror's Blade to collect daily rewards just for logging in, including Treatise, Unit Medals, an exclusive "Lord of Darkness" Title, and more!
Warden Quests: Complete daily and weekly quests from the woeful Warden to earn Bronze, Honour, Military Sacks, and more. (ends November 11, 23:59 server time)
Scary Sights: Roam the world of Conqueror's Blade to find we've added a scary touch to proceedings with pumpkins, scarecrows, and even more creepy Halloween decor!
Collector's Pack Discount: Enjoy a frighteningly good 60% off the Battle Saga Collector's Pack, including Jomsdrengr Hero Attire, Silver, Siege Weapons, and a 90-day Premium Account. (ends November 1, 6PM CET)

Fangtastic Exchange
Join Siege, Field, and Free Battles (and the Night of the Beast PVE Mode - more on that below) to find Mysterious Fangs and exchange them for great rewards until November 11 (23:59 server time)! These fangs belong to mysterious animals indigenous to the Borderlands. Accounts of the beast's appearance are wild and conflicting, but judging by the size of its teeth, it must be terrifying to encounter.
Head to the Exchange Event interface to hand over your Mysterious Fangs for rewards such as Treatises, Bronze, Unit Medals, Rare Schematic Chests, and more! The Exchange ends November 18 (23:59 server time).
Any unspent Mysterious Fangs will automatically be converted to 300 Bronze Coins (per Fang) after the event ends.
Halloween Costumes
Need to find some ghoulish garb for a Halloween party? We've got you covered with our supernaturally stylish attires! Until November 18 (23:59 server time), you can pick up the following frightful items in-game and via MY.GAMES Market.
NOTE: The Vampire Knight Mount Set is subject to a purchase limit of ten.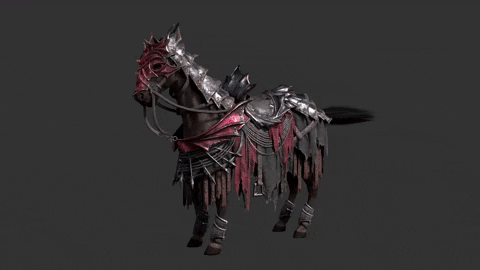 Frightful Fortune's Bounty Event
For a limited time as part of the Halloween festivities, you can claim FREE items when you spend Sovereigns via the in-game Store. The more Sovereigns you spend before November 18 (23:59 server time), the more freebies you receive — along with special bonus items!
Check out the details for the new Fortune's Bounty event below:
| | | |
| --- | --- | --- |
| Sovereigns | Items | Bonus Items |
| 500 Sovereigns | 3x Scholarly Texts | 3x Marshal's Handbooks |
| 1,000 Sovereigns | 5x Random Rare Artillery Chests | 3x 10,000 Silver Coins (30,000 Silver Coins total) |
| 2,000 Sovereigns | 30x Unit Medals | 2x Greater Scrolls of Tyranny (5,000 Glory each) |
| 3,000 Sovereigns | 10x Vault Keys | 2x Random Epic Artillery Chests |
| 5,000 Sovereigns | 4x Lotus Waters | 1x "Shakey Shake" Emote |
| 10,000 Sovereigns | 3x Epic Horse Armour Schematics | 1x Player Title: Pumpkin King |
Limited-time In-Game Bundles
Progress in your blood-curdling battles with these limited-time in-game bundles until November 18 (23:59 server time)!
Spoils of War: Along with a menacing supply of Unit Medals and Marshal's Handbooks, the wretched rewards don't stop there. Log in each day for 7 days to get additional rewards!
Newcomer's Gift: Perfect for training up your new army of the undead, this bundle provides you with everything you'll need to get your soldiers up to scratch, from Scrolls of Renewal to Super Unit XP Cards.
Military Camp Supplies: Does your creepy camp need an upgrade? Grab this bundle to receive a Personal Storage Expansion, Logistics Charters, Expansion Permits, and a Horse Trough.
Master-at-Arms' Supplies: Along with Unit Medals Glory, and more, you'll also receive a bunch of Scrolls of Renewal, so you can raise your recruits to their highest level of horrific power. It's alive!
Expedition Supplies: Set out on an adventure into a dark and mysterious world withVault Keys, Marshal's Handbooks, Bronze, and more.
Night of the Beast: Limited-Time PvE Mode
From now until November 18 (23:59 server time), take part in a petrifying limited-time PvE mode: Night of the Beast!
Hold your own against a horde of enemies, and be rewarded with two to three Mysterious Fangs dropped per battle — and you can receive the terrifying teeth twice a day!
Happy Halloween, Warlords!